From Ordinary to Masterpiece
At Creted, we take pride in our craftsmanship, quality, and reputation and are dedicated to helping clients achieve their vision for each unique project.  We provide many types of professional design, installation, and finishing services for commercial and residential concrete spaces using state-of-the-art processes, materials, tools, and machinery. When you need polished or epoxy floors, you need more than style. We can provide a practical, durable, and beautiful flooring system that is notable for withstanding the test of time.  We are a concrete flooring company you can trust!
Why Choose Us for your Decorative Flooring Needs?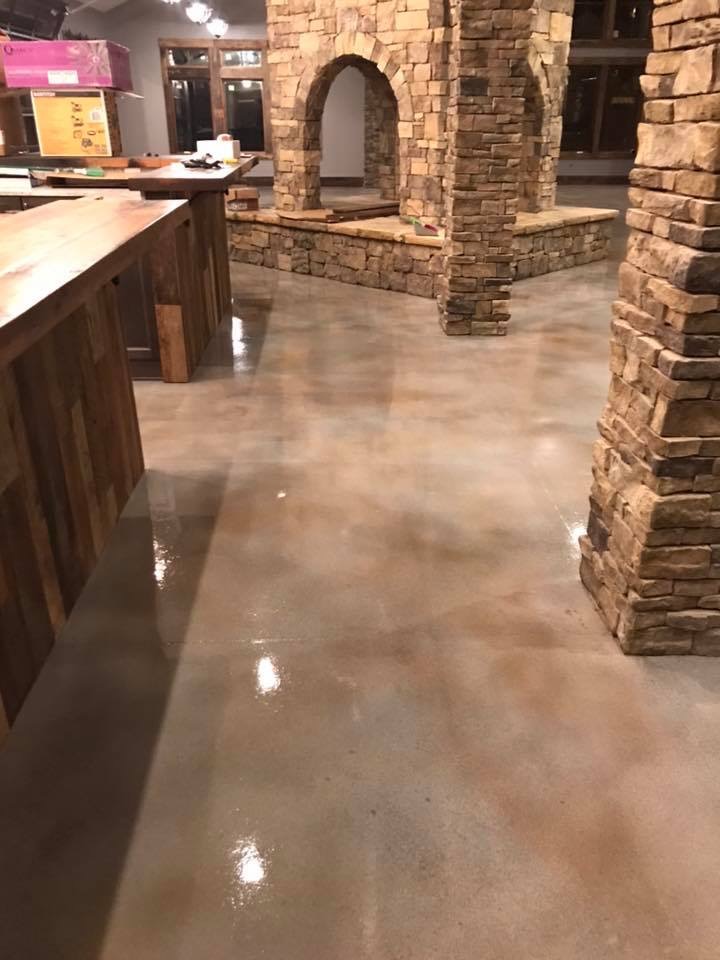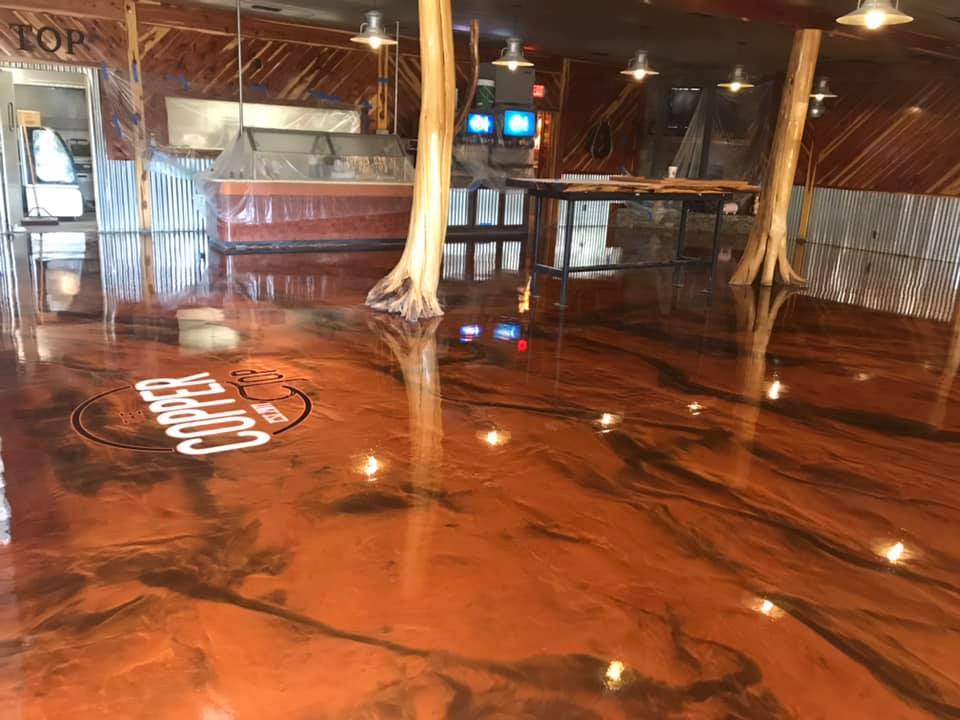 Our commercial epoxy floors can dramatically transform your work environment with a fast and efficient process that makes your epoxy floor coating look great and protects your floor for years.
Due to its durability, perseverance and low maintenance requirements, epoxy floor coatings are popularly used in many commercial spaces.
We offer a variety of coating systems to ensure stability and functionality while also providing an aesthetic essence to provide an overall beautiful, full-proof floor.
Factories, warehouses and industrial plants can benefit from floor coatings as they minimize wear and tear from heavy equipment, chemicals and movement. The non-porous effect of our coating systems make clean up easy while also protecting the floor from hazardous and permanent damage. These benefits provide economical savings long term.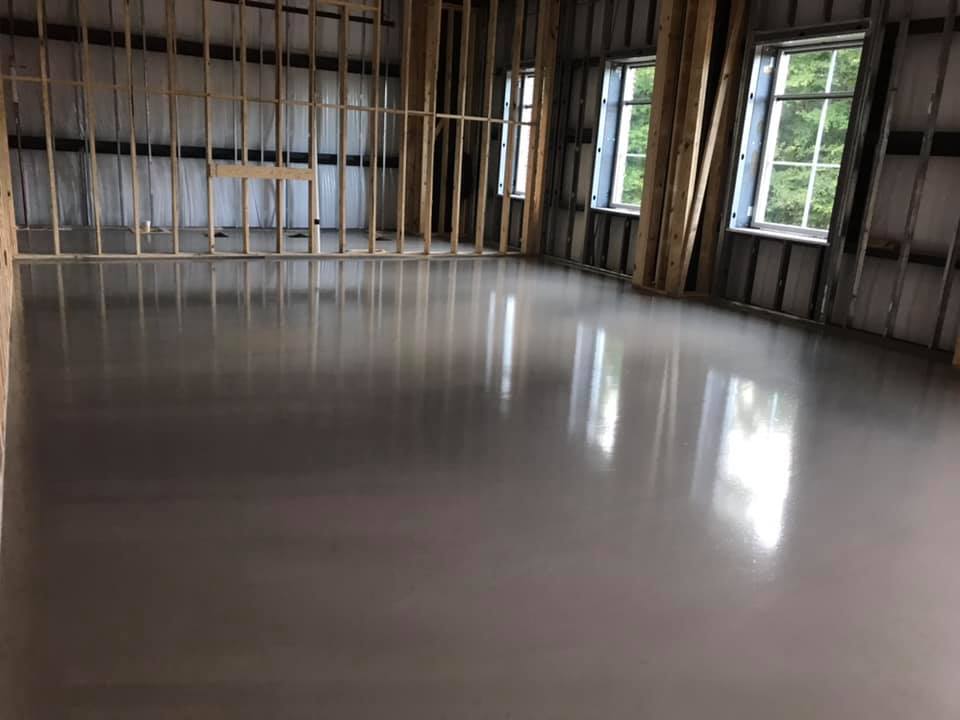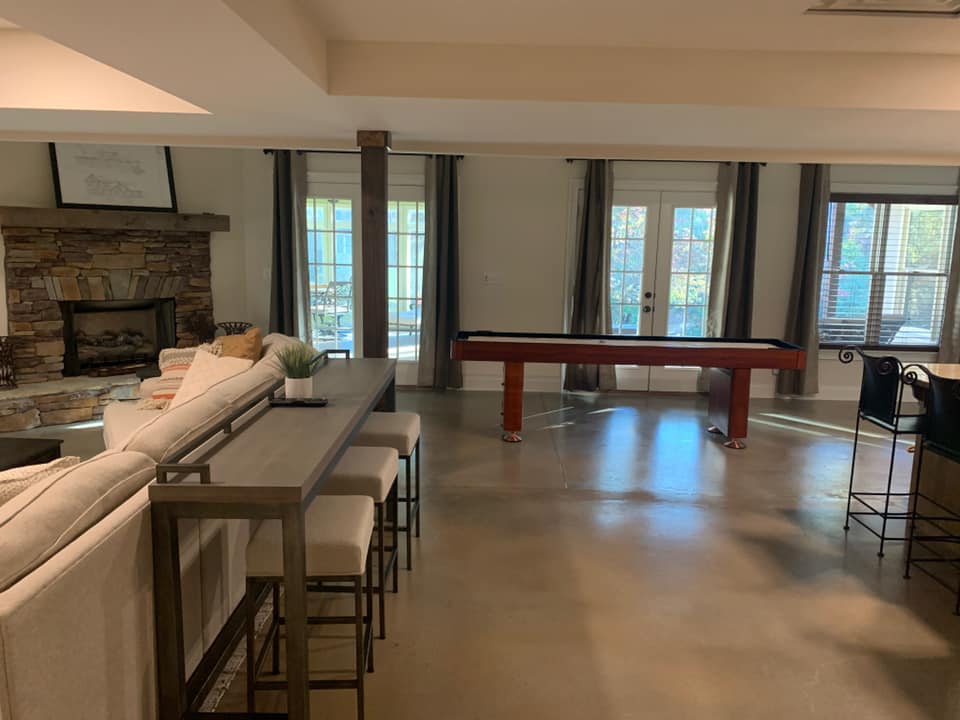 Our epoxy floors are ideal for residential applications. Perfect for garages, basements, kitchens, bathrooms, laundry rooms, pet areas, sunrooms and more.
We turn residential floors into something beautiful, giving you and your family years of enjoyment while increasing the value of your home.
Garage floors can face major corrosion over the years from exposure to road salt, motor oil, gasoline and other substances. Heavy vehicles and lawn equipment moving across the floors surface further aggravate the exposed concrete. Garage floors are a great candidate for the applications we provide in that they provide protection for years to come.
With our help, here at Creted, we can bring you a professionally applied epoxy garage floor coating to reduce the relentless wear and tear on your garage's concrete. Applying a floor coating unique to garage floors, we can help you make your garage more resistant to spills, cracks, chipping, and more as well as make it aesthetically appealing. Epoxy garage floor coatings are the way to go to protect your garage floor.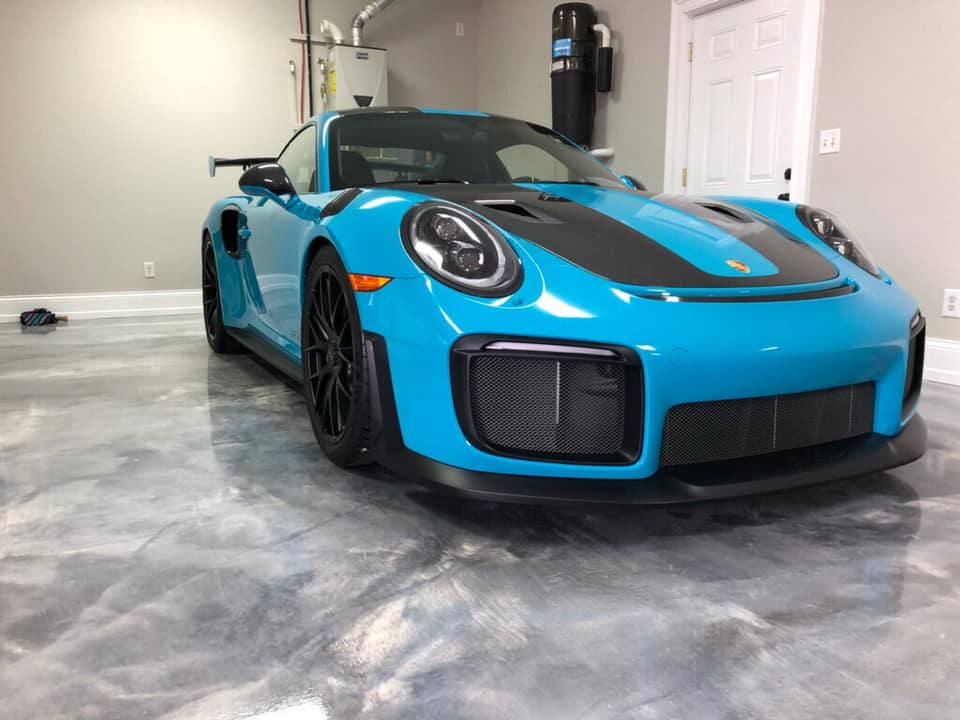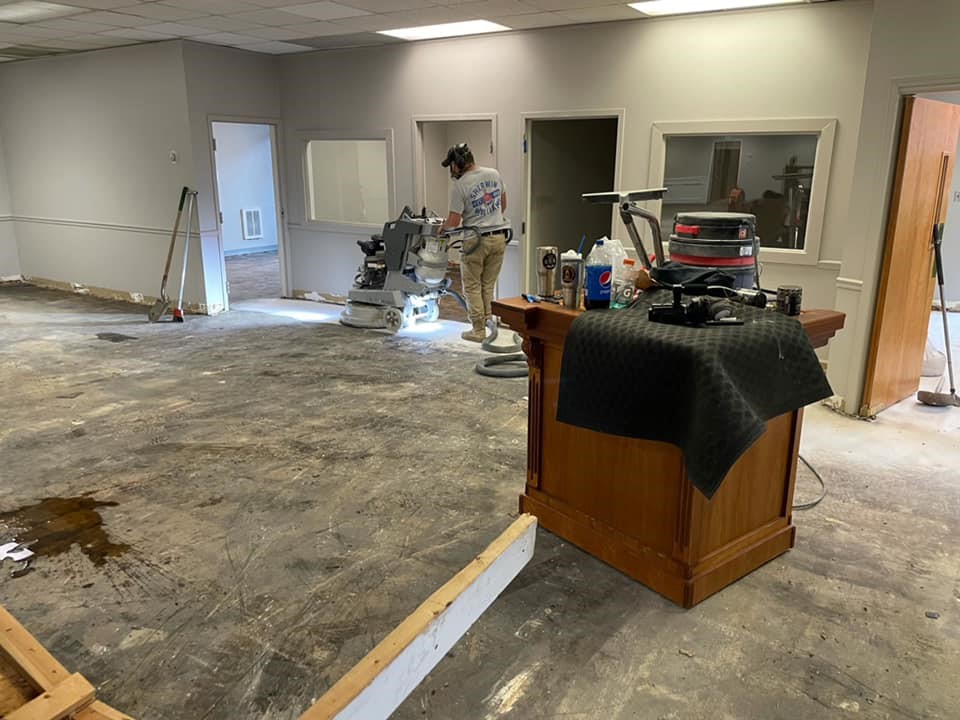 Floor Prep and Floor Removal
Over time, concrete cracks and damage can occur due to moisture, settling and pressure, with the techniques and technology we offer, we are able to repair or replace your current floor with the ability to provide an adhesively effective and durable floor.
We consider water, grade, slope and moisture retention when applying our coating systems or grinding an old floor. We also spend a lot of time and focus prepping your floor for a seamless transition to your top floor whether it be hardwoods, carpet or an concrete overlay. Your floors foundation is our priority.
Other types of concrete coatings we offer
POLYASPARTICS
This is a new decorative coating product with fast setting times. Benefits- The ability to be applied to full-thickness in one coat, greater abrasion and impact resistance than epoxy or urethane coatings, the ability to be applied at high or low temperatures and excellent bonding characteristics and UV stability. They are suitable for both residential and commercial applications and are especially popular for garage floors, driveways, retail facilities, auto showrooms, warehouses and other slabs subject to heavy wear and tear.
EPOXY FLOORING
This application provides a seamless and self-leveling coating system which features thermal shock, impact and chemical resistance, while also providing built-in textured surface reducing slippery conditions. This system provides the added benefits of antifungal and anti-bacterial qualities making it ideal for food processing areas, commercial kitchens, breweries, bakeries and anywhere wet and freezing conditions exist.
Concrete Overlay
Gives almost any concrete surface a complete facelift with many options available. These systems blend polymer resins with cement, sand, and other additives to improve performance, wear resistance, and aesthetic qualities. Polymer-modified overlays can be applied in layers as thin as a credit card or up to several inches thick without delamination or failure. They adhere well to existing concrete and resist damage from salt, chemicals, UV exposure, freeze-thaw conditions, and abrasion.
Decorative Quartz and Flake Systems
Popular among architects, designers, contractors and consumers because this system delivers unique and customizable flooring with an endless range of color, styles, texture and blending options.
MMA or methyl methacrylate
Methylmethacrylate is a flooring solution for rapid installations in low-temperature environments. MMA flooring has numerous properties that have been proven to beneficial in food and beverage and retail industries, including, but not limited to, chemical, slip, and water resistance.
We also give you pointers on how to choose the best system for a particular application. With the many options available, we are able to meet your flooring requirements for durability, appearance, maintenance, and cost.
Epoxy coatings are one of the toughest and most durable finishes that can be applied to a concrete floor. Frequently used on high traffic, concrete, garage floors because of its durability, it is a great choice to instantly transform a dull, gray concrete floor into a floor of beauty and function. Utilized for both residential and commercial applications, epoxy will make your concrete floors more resistant to impacts, chipping, chemicals, stains, auto fluids, and surface abrasions. Epoxy floor coatings are a treatment favored by many.
Safety must be a top priority with any home or business. As a home or business owner, you have to ensure that you create an atmosphere that is safe for your family and visitors. So, how exactly does epoxy floor coating improve safety? Epoxy coatings are formulated to resist slip. Slip resistance grip can be added, so no need to worry about slippy floors. You will find that there are actually lots of benefits associated with epoxy flooring  including the fact that these surfaces are non-slip, which means that you will not have to worry about slipping and falling when you are doing any sort of work in your garage.
Polished and epoxy flooring applications both require foundational concrete slabs, but they provide two very different types of flooring surfaces better suited for different types of environments.
Polished concrete is created by repeatedly running specialized industrial grinding machines with fine polishing heads across a treated concrete slab to form a smooth, burnished surface. This application provides a protective finish that is highly durable, improves light reflective value, is long lasting and requires no waxing and little maintenance. Because polished concrete will create a brighter space overall due to the added benefit of increasing the floor's light reflectivity by up to 100%, this can improve the efficacy of existing overhead light fixtures creating a brighter space overall. Better indoor air quality is also a plus as polished concrete decreases the dust, bare concrete can create. A polished finish transforms the look of concrete into a brilliant and iridescent surface.
Epoxy flooring systems consist of multiple layers of various two-component coatings that are applied to a mechanically prepared concrete surface which chemically cure to form a durable, impermeable and protective coating. An Epoxy coating possesses a variety of special performance and aesthetic characteristics while also protecting the integrity of the concrete when exposed to harsh chemicals and a variety of environments. There are many benefits of an epoxy system such as improving the concrete floor's weight-bearing capacity and impact resistance, imparting puncture and abrasion resistance, providing static control protection as well as the ability to withstand some of the most extreme conditions found in biotech pharma, food and beverage, chemical and many other processing and manufacturing operations.
Epoxy coatings can disguise and correct imperfections in the concrete and can even be used to resurface slabs that might otherwise be irreplaceable. In addition, high gloss resinous topcoats can increase the floor's light reflectivity by up to 300%, thus reducing the need for additional lighting and helping to save on energy and costs.
Because epoxy flooring is installed in its liquid state, the resulting surface is impervious and virtually seamless. Once cured, depending upon type and formulation, resinous floor systems are highly resistant to solvents, acids and alkalis. This is of importance in settings where harsh reagents and toxins are used. In contrast, a polished concrete surface is not designed to withstand exposure to such materials and is vulnerable to absorbing and retaining dangerous substances or otherwise enabling pollutants to flow through the slab into the surrounding soil and environment. Well-selected and properly installed epoxy and other resinous coating systems eliminate this vulnerability, allowing environmental hazards to remain on the surface, where they can be properly contained and disposed of.